The new Alternative Baker location in Rosendale, NY -- exterior shot
The new Alternative Baker store in Rosendale, NY -- interior shot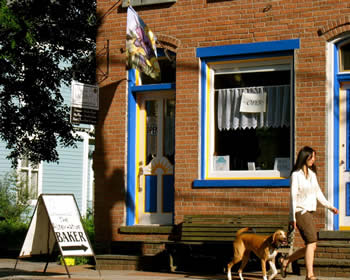 Please note:
We will be closed Easter Sunday and Monday plus our usual Tues/Wed
The Alternative Baker (lemoncakes.com) is a traditional storefront bakery located in the town of Rosendale, in Ulster County, in the heart of the Hudson Valley in upstate New York. We specialize in lemon cakes (and lemon bundt cakes), which are widely renowned, as are all of our handmade traditional and alternative baked goods.
We also bake wedding cakes.
407 MAIN ST / POB 22
ROSENDALE (ACROSS FROM THE MOVIE THEATER)
ROSENDALE, NY 12472-0022
TEL: 845.658.3355
PLEASE SEND ALL MAIL TO THE PO BOX. THANK YOU.
SEE OUR CURRENT MENU
(PDF, 131K download)
EASTER MENU
(PDF, 1MB download)
PASSOVER MENU
(PDF, 500K download)
HOT DRINKS MENU
(PDF, 43K download)
COLD DRINKS MENU
(PDF, 52K download)
We will be closed Christmas Day and Boxing Day, the 26th (Sunday and Monday) and then reopen and stay open all the way through to New Year's Eve.

We will be open our normal Tuesday and Wednesday and then for the New Year be closed Sunday through Wednesday to reopen on Thursday to resume normal hours through winter.
Call to see what's special now!
800-399-3589 ~~ 845.658.3355